Wetlands are areas of the landscape that hold still or very slow-moving water. They can be natural or constructed, permanent or periodic, fresh or saline. They support plants and animals adapted to inundation and the aquatic environment.
Examples of wetlands include lakes, swamps, billabongs, estuaries, bays and inlets.
Common constructed wetlands include reservoirs, dams and water treatment facilities.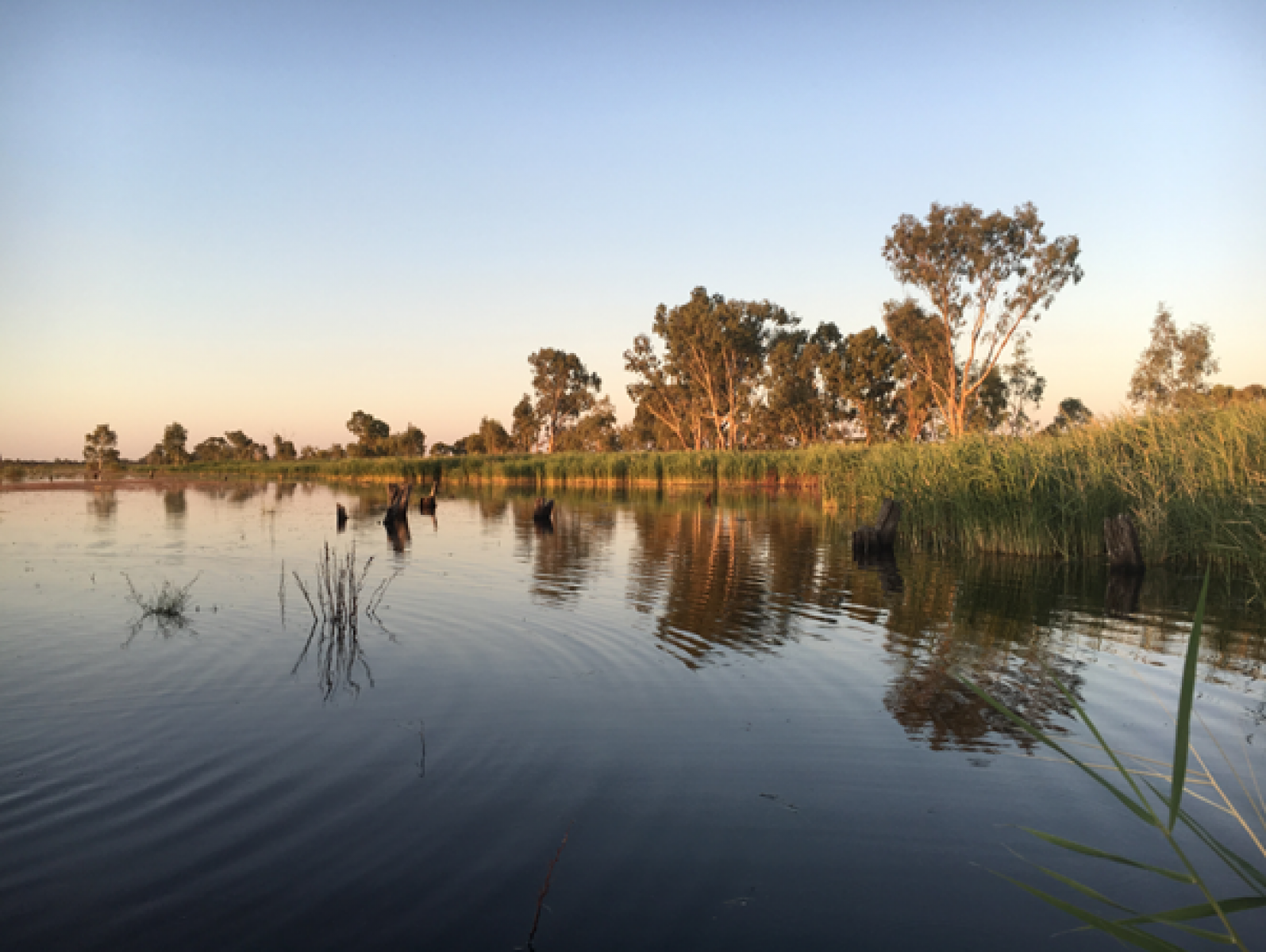 Benefits of wetlands
Wetlands provide many environmental, social, cultural and economic values. Traditional Owners and Aboriginal Victorians have used and cared for wetlands for tens of thousands of years. They are an important part of Aboriginal culture.
Wetlands:
Filter nutrients and sediments. This helps protect the water quality of rivers, estuaries and marine environments.
Reduce the impacts of flooding by holding and slowing floodwater.
Provide habitat for a diverse range of native plants and animals.
Provide refuge during periods of drought.
By supporting 24% of Victoria's threatened native species, wetlands play an integral part in protecting our native wildlife.
Wetlands support local tourism and the economy. People enjoy boating, camping, bird watching, fishing and duck hunting at wetlands.
Beyond recreational benefits, coastal vegetation such as mangroves also protects property and coastlines from the damage caused by storm surges.
Significant wetlands
Many of Victoria's wetlands are recognised for their environmental significance. The Directory of Important Wetlands of Australia lists wetlands of national importance.
Internationally important wetlands are listed under the Ramsar Convention.
With 12 Ramsar-listed wetlands, Victoria possesses some of the most important wetlands in the world.
The Victorian Government plays an important role in protecting and managing our wetlands and the values they support. The Government has demonstrated their commitment to meeting our obligations under the Ramsar Convention by investing:
$11.5 million towards the management of our Ramsar sites
$5 million to Ramsar site management in the 2021-22 State Budget.
Wetland monitoring and condition assessment
A method for monitoring wetlands in Victoria has been developed to detect when wetlands are inundated and monitor changes over time in the water regime, extent and vegetation cover.
Method for the long-term monitoring of wetlands
Wetland intervention monitoring
We also monitor wetlands to see how they respond to different kinds of management. This will help us improve how we manage Victoria's wetlands.
More information on the Wetland Intervention Monitoring Program.
Index of wetland condition
The Index of Wetland Condition (IWC) is a standard method used to assess the condition of wetlands. A web-based platform has been developed to enter and view IWC data and assist waterway agencies in managing Victoria's wetlands.
Victoria's wetland inventory and classification
The Victorian Wetland Inventory is Victoria's inventory of existing wetlands. Approximately two-thirds of Victoria's wetlands are natural.
An additional dataset, Victorian Wetland Inventory (Pre-European) contains information on the extent of wetlands in Victoria before European colonisation.
Both datasets consist of polygons and attributes relating to wetland type, geometry, water regime and vegetation. Many of these attributes are based on the Victorian wetland classification framework.
The datasets receive updates as new mapping and information about wetlands becomes available. They can be accessed through Data Victoria.
Wetland classification framework
The Victorian Wetland Inventory Edit Tool
The Victorian Wetland Inventory Edit tool was developed to improve Victoria's Wetland Inventory.
Users are able to recommend changes to the attributes of wetlands in the Victorian Wetland Inventory.
Celebrating World Wetlands Day
World Wetlands Day marks the date of the signing of the Convention on Wetlands of International Importance (the Ramsar Convention) on 2 February 1971 in Ramsar, Iran.
It is held on the second of February every year. Celebrating our wetlands and raising awareness about how urban wetlands contribute to the future of sustainable cities.
Page last updated: 08/09/23