Victorian Traditional Owners have cultural, spiritual and economic connections to land, water and resources through their associations and relationship with Country.
Water corporations need to:
Include Aboriginal values and objectives for water through water planning, increased participation and supporting access to water for economic development. Collaborating with Traditional Owners in water planning and management is an aspect of maintaining access to Country and its resources.
Improve access to water for Traditional Owners and Aboriginal Victorians to provide opportunities for economic development. Water-related Aboriginal enterprises can contribute to economic self-determination for Traditional Owners.
Incorporate Aboriginal customary knowledge into water management (where appropriate), and assist Traditional Owners to plan for, and adapt to, the impacts of climate change.
How can we address Aboriginal water values and uses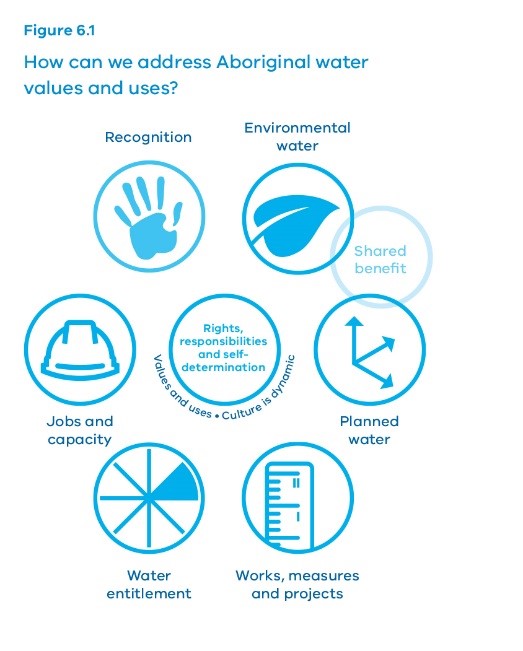 Diagram showing how we can address Aboriginal water values and uses.
Circular elements with symbols include:
recognition
environmental water
shared benefit
planned water
works, measures and projects
water entitlement
jobs and capacity.
Centre of the diagram: rights, responsibilities and self-determination
Values and uses
Culture is dynamic.
The map below shows some examples of local projects that incorporate Aboriginal cultural objectives into Victorian water management and planning:
Working with Traditional Owners and Aboriginal Victorians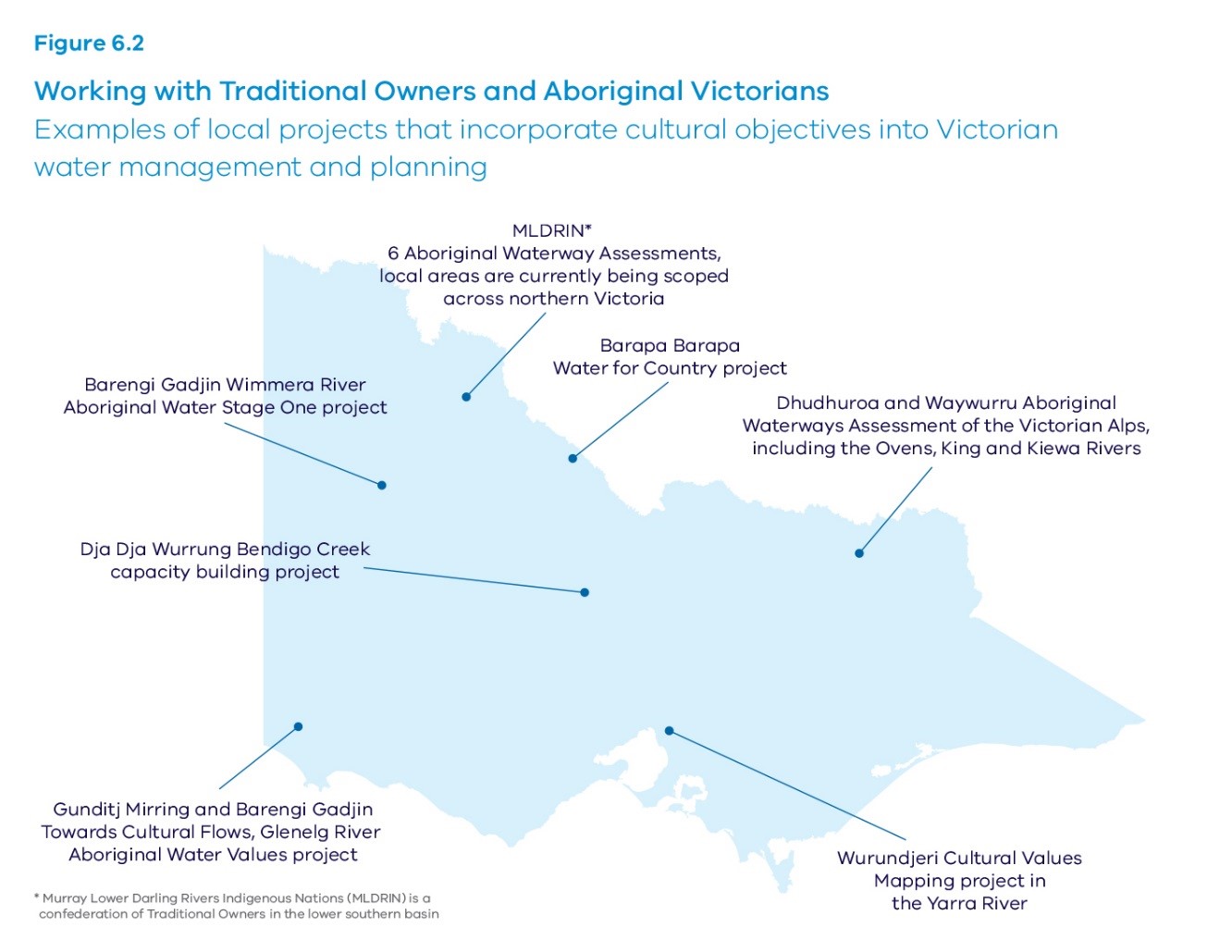 Examples of local projects that incorporate cultural objectives into Victorian water management and planning.
Gunditj Mirring and Barengi Gadjin Towards Cultural Flows, Glenelg River Aboriginal Water Values project
Dja Dja Wurrung Bendigo Creek capacity building project
Barengi Gadjin Wimmera River Aboriginal Water Stage One project
MILDRIN* 6 Aboriginal Waterway Assessments, local areas are currently being scoped across northern Victoria
Barapa Barapa Water for Country projects
Dhudhuroa and Waywurru Aboriginal Waterways Assessment of the Victorian Alps, including the Ovens, King and Kiewa Rivers
Wurundjeri Cultural Values Mapping project in the Yarra River.
*Murray Lower Darling Rivers Indigenous Nationals (MILDRIN) is a conferation of Traditional Owners in the lower southern basin.
We'll keep this page updated with progress on water business strategies to recognise Aboriginal values in water management through sponsorships, capacity building, engagement and pilot programs.
By communicating clear performance information across the industry, the government can ensure that the Victorian water sector is providing the best possible service to the community. Find out more about the Aboriginal Water Program.
Page last updated: 08/09/23