The role of the Sustainable Water Strategy is to secure the region's long-term water supplies.
For the Barwon, Moorabool and Otways regions, the actions from the strategy will secure its water future and supplies by:
using water in better ways
increasing the use of manufactured water sources.
Actions for the Barwon, Moorabool and Otways region
Traditional Owners
The strategy will return water to Traditional Owners in the region: the Wadawurrung including in the Barwon River / Parwan and Moorabool River / Moorabool Yulluk and to the Eastern Maar including in the Barwon River and Gellibrand River.
Managing water
Works include upgrades to the Melbourne to Geelong pipeline. This will provide greater water security for Geelong and allow the return of water to the Moorabool Yulluk.
The strategy will also transition to manufactured water to meet growing regional demands. Further regional options will progress via the Water Grid Plan.
Part of the strategy is investigating options to improve the health of the Anglesea River and estuary. This work will include coordinated releases from Painkalac Creek to improve the environmental benefits.
Moorabool, Barwon and Otway Coast map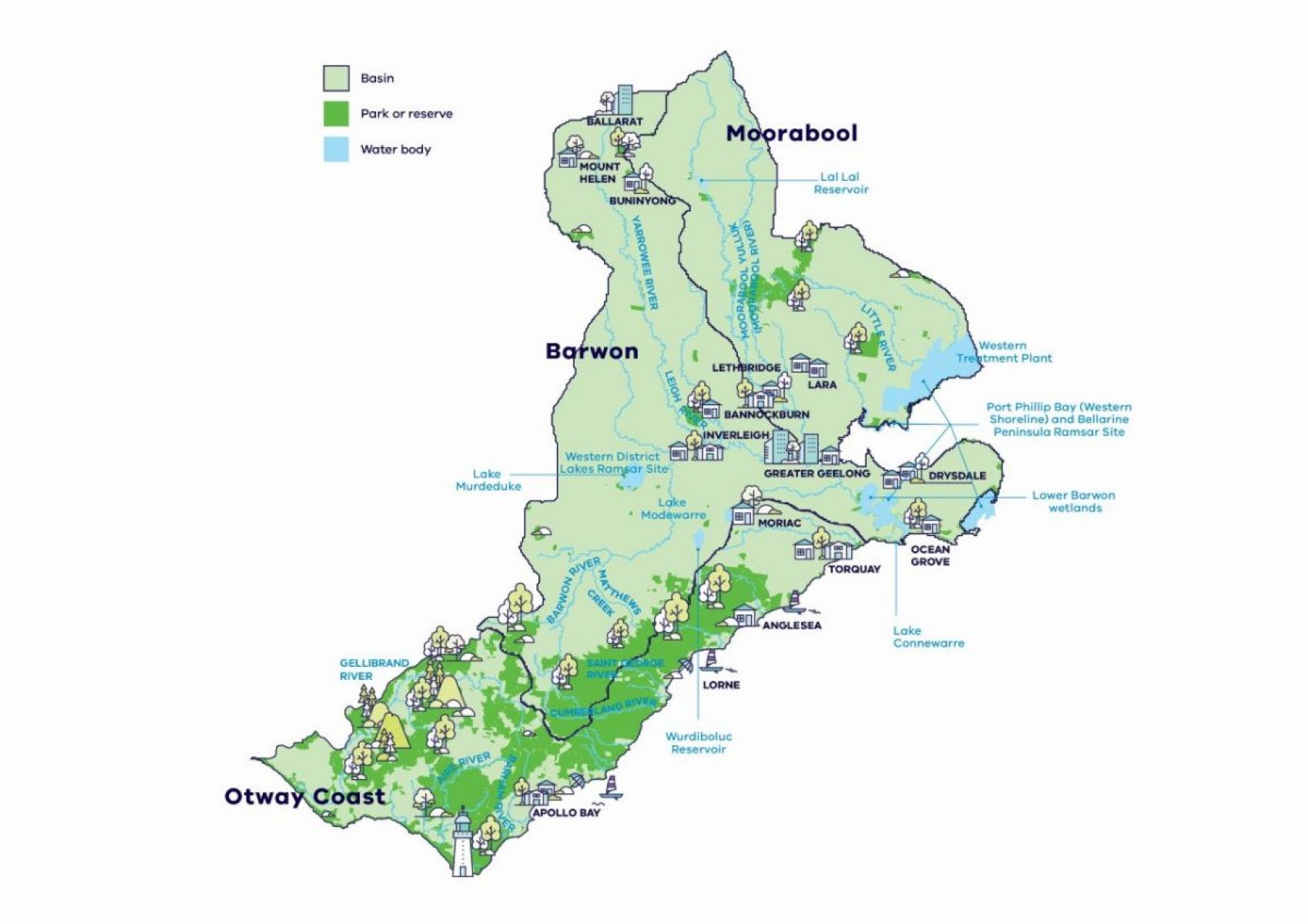 View a larger version of the Barwon, Moorabool and Otways map.
Waterway health
A focus on integrated water management is looking at options for stormwater and recycled water discharge into the Yarrowee River. This is to see if there are environmental benefits from this approach.
The Barwon and Moorabool basins will be a case study and review of stormwater management arrangements in the lower Barwon.
Work will also include a review of water resource risks in small, dry, peri-urban catchments with the Moorabool River / Moorabool Yulluk as a case study.
Complementary actions include:
improving fish passage at Buckley
rehabilitating the Moorabool Yulluk (Moorabool River) at Batesford Quarry increasing understanding of water needs of the Upper Moorabool and Leigh catchments
updating environmental watering recommendations for Reedy Lake and Hospital Swamps.
Improving waterway flows
The focus of the strategy is on environmental water recovery for the Moorabool River / Moorabool Yulluk and the Barwon River / Parwan. This work also includes:
improving flows in Stony Creek
investigations to improve critical flows in the Gellibrand River through the summer low-flow period.
To find out more:
Information on other relevant plans and strategies for the region.
Page last updated: 08/09/23