The urban water sector provides Victoria's cities and towns with safe and secure drinking water, manages and treats wastewater, and helps protect the urban environment from floods.
Water corporations are expected to participate in Integrated Water Management Forums to work with community, local government, catchment management authorities and Traditional Owners on regional priorities that have liveability benefits. Cross-government cooperation on water management helps create water sensitive and climate resilient cities, healthy people, landscapes and bays.
Source: Water for Victoria 2016
Liveability also includes affordability and support for vulnerable customers, so it is important that water corporations maintain downward pressure on prices and lower water bills.
Average Household Bills 2021-22 for Major Urban Centres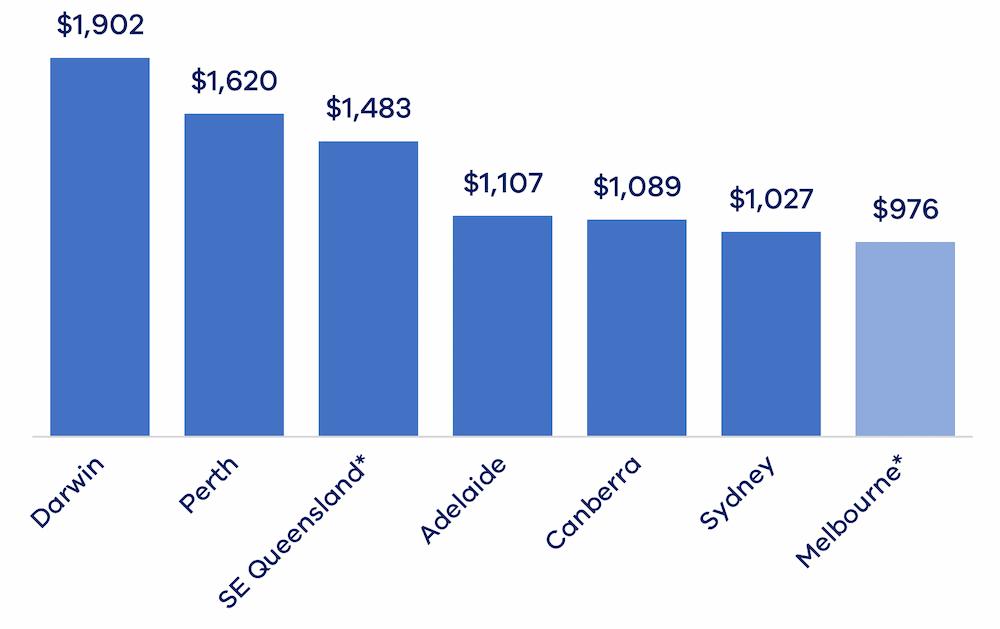 The average household bill for Water and Sewerage usage for major urban centres during the financial year 2021-22
Source: Water corporations performance dataset, Bureau of Meteorology 2022
Note: No data was available for Hobart. Data is only available on an aggregated basis for the whole State of Tasmania.*Weighted retail utility average.
Average Household Bills 2021-22 for all Urban Areas
The average household bill for Water and Sewerage for all urban areas for each State during the financial year 2021-22
Better management will help us achieve benefits more efficiently and contribute to an affordable urban water sector. Victoria will use the best mix of traditional and local solutions to get the most out of infrastructure and investment.
Volumes of effluent re-used in Victoria (ML). Source: Essential Services Commission 2021-2022
We'll keep this page updated with progress on creating efficiencies and maximising the benefits for all users from the way we manage our water resources. There will also be a continued focus on affordability and supporting vulnerable customers. By communicating clear performance information from across the industry the government can ensure that the Victorian water sector is providing the best possible service to the community.
Page last updated: 18/05/23